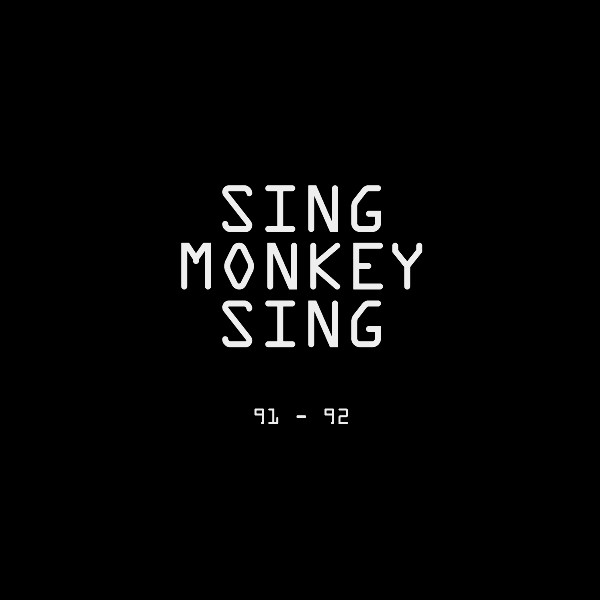 A collection of electronic and dance-oriented experiments recorded by Purple Fish side project Sing Monkey Sing from 1991 to 1992.
Introducing the Band (1:48)
Tinhead Parts I to III (9:14)
The Clogger's Dream (4:21)
2 B.C. The Power of Involvement (4:33)
Blue Baby Mix 2 (4:36)
Madagascar (3:23)
Candlelight (4:08)
D-Day at Pompano Beach (4:16)
Squenchy Pants Live Mix (1:57)
Subculture (2:12)
Kernkraft Parts I to VI (23:25)
Equipment and software used: Alesis SR-16, Ensoniq Mirage, Yamaha DX-27, Yamaha FB01, Casio CZ-101, Sequential Circuits Six-Trak, ART Multiverb, Texture 2.1, Boss and DOD effects pedals, Fender Stratocaster, Peavey T-40, Tascam 244, Rotel and Technics tape recorders and many thrift-store cassettes.
Performed and recorded by Sing Monkey Sing. All songs written by Brown and Cummings. Recorded from 1991 to 1992 at Tranquility Bass and Sheer Drop Studios, Austin, Texas. Cover image by Cummings. Different mixes of both Blue Baby and parts I and II of Tinhead were self-released in 1992 on a cassette titled "Four Songs."
http://www.vortura.com/wp-content/uploads/2018/02/alphanum_lowercase-letter-v_flat-circle-white-on-black_512x512.png
0
0
BDC
http://www.vortura.com/wp-content/uploads/2018/02/alphanum_lowercase-letter-v_flat-circle-white-on-black_512x512.png
BDC
2014-10-07 17:07:22
2014-10-07 18:28:56
Sing Monkey Sing - 91-92